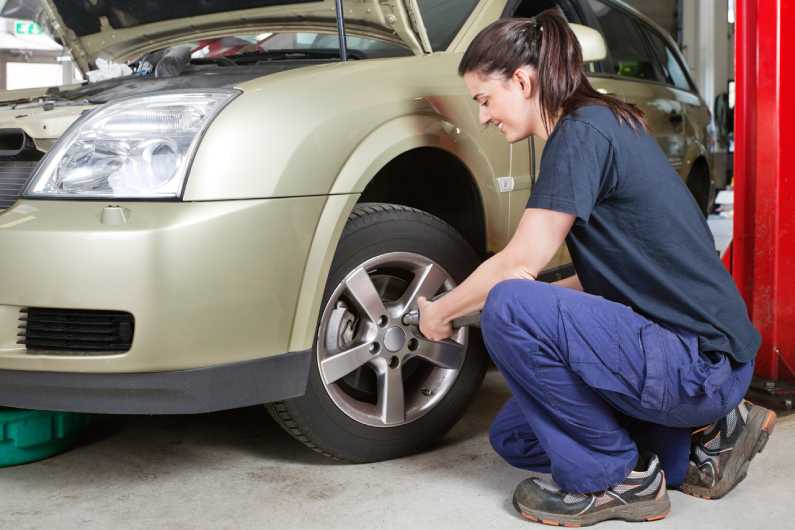 The health of your tires is crucial to the safe and smooth operation of your vehicle. It's also important to know how to change a flat tire so you're prepared in the event of a tire blowout.
What to do when a tire goes flat



When your tire goes flat while you're driving, don't slam on the brakes. Take your foot off the accelerator and try to find a safe, flat area to stop. Parking lots are ideal, but if you have to stop on the shoulder of a road, make sure it is safe. It is better to damage the rim of your tire by driving to a safe spot than to stop on a narrow, busy shoulder where accidents can happen. Turn on your hazard lights and apply the emergency brake.

Most vehicles come with tools to change a flat. However, if they don't, make sure to keep the following items in your auto: spare tire, jack, lug wrench, and wheel wedges.
How to take off the flat tire
To start, place wheel wedges on the opposite side of the flat tire to keep the vehicle from rolling. Remove the hubcap with the lug wrench. Once the hubcap is off, use the lug wrench to loosen the lug nuts. Turning counter-clockwise, apply enough force to turn the nuts, but don't remove them all the way.

Next, get out the jack. The best area to position the jack is behind the wheel on a flat portion of the frame. Don't place it under the axle or suspension.

Once the car is jacked up, remove the lug nuts completely. Slip the tire off the hub and replace it with the spare tire.
How to put on the new tire
Replace the lug nuts by screwing clockwise, but only using your hand to tighten it. Carefully lower the jack so that the tire is sitting on the ground without the full weight of the vehicle on it. Tighten the lug nuts as much as possible, using your bodyweight or foot if necessary. Then remove the jack completely.

Replace the hubcaps, stow your tools, and then head to a local dealership's service department. It's unsafe to drive on spare tires for long periods or at high speeds, so it's best to replace the spare with a permanent tire as soon as possible.
Contact us at Atzenhoffer Chevrolet Cadillac Mazda Mitsubishi, if you have a flat tire or have any other questions about maintaining your tires.
3211 North Navarro St.
Victoria
TX
77901
Hours
Monday

7:30am - 6:00pm

Tuesday

7:30am - 6:00pm

Wednesday

7:30am - 6:00pm

Thursday

7:30am - 6:00pm

Friday

7:30am - 6:00pm

Saturday

8:00am - 4:00pm

Sunday

Closed