You might hesitate to bring your car into a dealership for

service

when the corner repair shop is promoting crazy sales and deals. Have you ever stopped to think what you're really getting for your money and what you might be missing when your patronize a local garage?
Are the mechanics at the shop certified on your car's brand?

Have they been trained on the latest equipment, parts, and systems unique to your vehicle?

Is the shop equipped with the most advanced equipment?

Will the shop honor your car's warranty?
Chances are, the answer is no to all of the above. Servicing your car at

Atzenhoffer

, though, gets you a yes to these questions and many more benefits.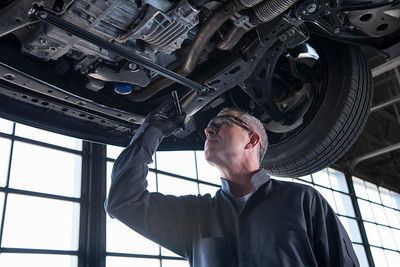 ASE-certified and GM-trained technicians
Our certified dealership technicians are trained to repair the specific make and model of your car, which means they understand its unique engineering. This insider knowledge allows them to discover issues other mechanics can't. If a brand or model is synonymous with certain problems, our dealership technician are well-versed in their repairs, helping to save you time and money. Plus, our technicians have access to the best, most up-to-date factory-made equipment to service your car.
Sometimes it's not the actual repair that's the hassle, it's getting your car in for service that's bothersome. Local shops typically can't compete size-wise with our service department. More service bays means more technicians and less time waiting for an appointment. When your car requires an overnight stay or more time-consuming repairs, our dealership can help facilitate a rental car or transport you home or to work via our convenient shuttle service. If you leave your car at the local shop, you'll have to arrange for transportation on your own time.
Cleaner, well-organized facility
The larger footprint of our dealership allows for more space dedicated to your comfort. Our well-appointed waiting area offers a clean, organized and welcoming space for you to pass the time as your car gets fixed. Stay in touch with work or connect to your favorite apps with our free Wi-Fi. Our separate play area will help keep your kids entertained while you wait.
Original equipment manufacturer parts
Yes, most parts will do just fine in your car. But, is fine really good enough for your commutes, road trips and every journey in-between? We stock OEM parts for car's repairs. At a local repair shop, you're either rolling the dice on the quality of parts or wasting time and paying extra for them to order an OEM part.
Warranty coverage and recalls
If the factory warranty is still valid on your car, repairs are free at our dealership. Local repair shops won't typically honor manufacturer warranties, which means you're shelling out money for no good reason. At Atzenhoffer, we can even offer you extended warranties backed by your car's manufacturer. Our dealership technicians are notified of any recalls on your vehicle, and repairs based on recalls are usually performed at no cost to you. A local repair shop may not have access to recall information regarding your vehicle, putting you in a potentially dangerous situation.
High-quality customer service
At Atzenhoffer, our technicians, as well as our entire staff, are held to a very high standard as we represent the manufacturer. Your customer satisfaction is our priority, and our team is dedicated to helping you at every stage of vehicle ownership.

Whether your car needs regular maintenance, a major repair or a customized service, our expertly-trained technicians can handle the work. Schedule an appointment with the service department at Atzenhoffer for all your car's maintenance needs.